Scroll
FUNDAMENTALS OF HEAT METERING IN HYDRONIC SYSTEMS
Download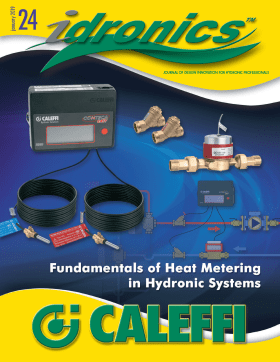 Although relatively new to North America, heat metering has many practical applications.  One is verifying if a heating (or cooling) source is producing its expected thermal output.  One example is a solar thermal heating system.  The heat output of the solar collector array, as well as the balance of system can be accurately measured over any period of time.  In some cases, financial incentive from government agencies for solar thermal or other types of renewal thermal energy systems are based upon verified performance, which can only be measured using heat meters.
With the recently enacted ASTM E33/E3137M-17 standard for Heat Metering (which you will ready about in this issue), the stage has been set for heat metering to become increasingly used for these and other purposes in North America.
This issue of idronics elaborates on the benefits of heat metering in hydronic systems.  It also explains the technical concepts used and illustrates how heat meters can be integrated into several different applications.
We hope you enjoy this 24th issue of idronics and encourage you to send us feedback by emailing us.