Scroll
LOWERING WATER TEMPERATURE IN EXISTING HYDRONIC SYSTEMS
Download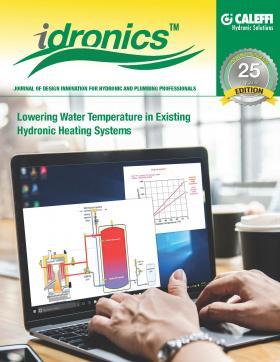 Today, energy efficient, low temperature hydronic systems are easily applied in new construction. However, modern heat sources that perform best at low water temperatures are not as easily adapted to existing buildings with older "high temperature" distribution systems. This mismatch is a significant impediment to upgrading older buildings to contemporary hydronic heat sources.
This issue of idronics discusses techniques for lowering the water temperature in existing systems to make them compatible with modern high efficiency heat sources.  It shows how reductions to heating loads impact supply water temperature. It exams practical methods for modifying existing distribution systems, and adding supplemental heat emitters. It presents analytical methods for evaluating options. Lastly, it presents examples that demonstrate practical solutions for lowering water temperature without compromising comfort.
We hope you enjoy this 25th issue of idronics and encourage you to send us feedback by emailing us.