Scroll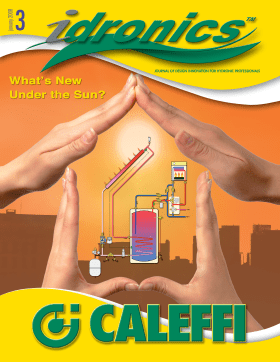 The "green" state of mind is rapidly spreading across North America. Soaring fossil fuel costs, environmental issues and national security concerns are all raising interest in alternative energy technologies. An especially popular topic is solar heating, the subject of this edition of idronics.
Caleffi has developed and marketed solar heating products in Europe and other parts of the world for many years. In most of these regions, the high cost of fossil fuel and heightened sense of environmental responsibility has made solar heating a well-accepted standard rather than rarely used alternative.
We see a similar trend quickly developing in North America. At our North American headquarters in Milwaukee, each week brings numerous inquiries from plumbing and heating professionals on how to design and install solar heating systems. These inquiries demonstrate a need to take the "mystery" out of solar heating, and give these professionals the know-how and confidence to pursue this growing opportunity.
That's the goal for this issue of idronics. It begins with a primer on solar heating fundamentals, then presents a wide spectrum of design concepts and hardware options for solar water heating and space heating. For the seasoned solar professional, it provides innovative design solutions to consider for future applications.
So whether you're a plumber who wants to install solar water heating systems, or a veteran designer of commercial solar space heating systems, we trust this issue of idronics will be a useful handy reference for you.