Scroll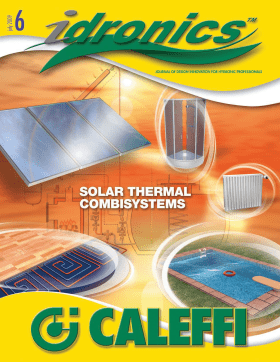 The global recession has slowed nearly all industries over the past year.  However, despite decline in construction, solar water heater shipments in the U.S. increased 50% during 2008.
 
As more and more HVAC professionals become familiar with solar water heating, many recognize opportunities to extend solar thermal technology for combined domestic hot water and space heating applications.  This is a trend our parent Caleffi SpA identified several years ago in Europe, and is now a topic of growing interest here in North America.  For this reason, solar "combisystems" was selected as the topic for this edition of idronics™.
 
Caleffi is pleased to provide the information in this edition to assist those designing solar combisystems.  We also stand ready with state-of-the-art hardware to support installation of such systems.