Scroll
SAFE AND SANITARY HOT WATER DELIVERY SYSTEMS
Download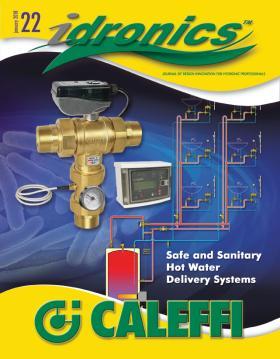 SAFE AND SANITARY HOT WATER DELIVERY SYSTEMS (#22, January 2018)
We could have titled this idronics issue "Safe Domestic Hot Water Delivery Systems".  But with growing incidences of water contamination and related problems such as Legionnaires' disease, we thought to include "Sanitary" to add emphasis on factors other than the one most commonly associated with safe domestic water -- burn protection.
This issue of idronics focuses on methods and hardware for controlling temperature in domestic hot water delivery systems.  It describes temperature-based disinfection for minimizing the potential for biological contamination.  It also discusses ways to ensure that the water supplied from fixtures will not cause burns.
We hope you enjoy this 22nd issue of idronics and encourage you to send us feedback by emailing us.