Scroll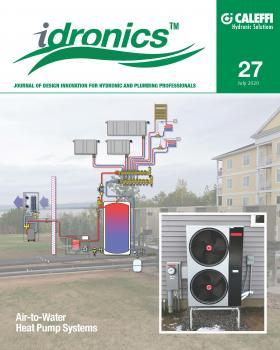 Air-to-Water Heat Pump Systems (#27, July 2020)
The design of heat pumps that supply space conditioning and domestic water heating has also improved dramatically. Enhanced vapor injection, variable speed inverter compressors, electronic expansion valves and other state-of-the-art technologies have been integrated into many modern heat pumps . The resulting efficiency gains now allow air-source heat pumps to be used in cold Northern climates, even when outside temperatures fall below 0 ºF. And because they operate on electricity, rather than fossil fuel, they are well-positioned for today's focus on carbon reduction driven by changing social attitudes and government policies.  
     
This issue of idronics deals with "air-to-water" heat pumps that heat buildings by absorbing low temperature heat from outside air and delivering it, at higher temperatures, to a hydronic distribution system.  These heat pumps combine the advantages of modern air-source heat pump technology with the unsurpassed comfort of hydronic heating and cooling. They are widely used in Europe and Asia, and represent a growing market opportunity within North America.
We trust you will enjoy this issue of idronics and encourage you to send us any feedback by e-mailing us at idronics@caleffi.com.
For prior issues please visit our archive and browse the collection. There you can download the PDF files.